We are still planning for this to go ahead
Report collection 9th July 2020
We are looking forward to seeing many of you on Thursday to collect your children's reports. To keep within government guidelines and ensure everyone's safety please read these instructions carefully before coming and help us to enforce them. Being so prescriptive is not our normal way of working with you - but it will have to be for the foreseeable future. We can only operate this arrangement outside so will have to cancel it if it is raining. Please check our website and social media platforms for confirmation on the day.
Y1 and Y6 bubbles will not be operating as the staff will be distributing reports.
Jennie Mackay is on maternity leave but will be calling in during the day - other staff will also be handing out her reports
Instructions for Thursday 9th July 2020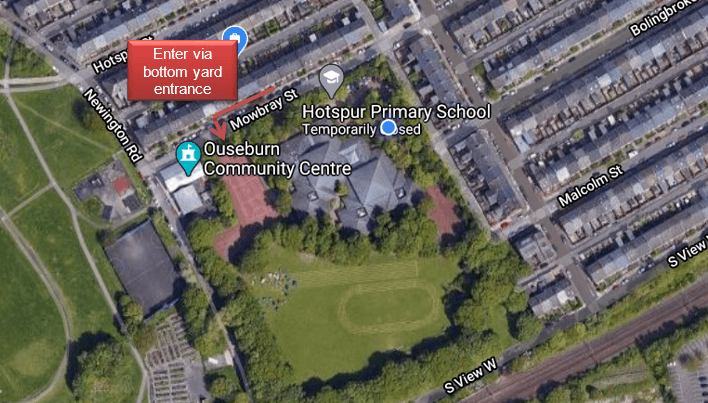 Arrive during your allocated half hour slot - these were sent via text last week
Enter by the bottom yard gate on Mowbray Street where there is a one way system in place as shown on the diagram going down the street towards the community centre
Follow instructions from members of staff
There will be no toilets available as we cannot keep them clean with so many people visiting during the day – so go before arriving at school
Keep children with you at all times – they cannot go off and play around the site
Wait for a space at tables to collect reports once you get to the top yard - there will be plenty of staff available to help with this
There are 5 children allocated for each teacher in each half hour slot – so don't eat into other people's time - again staff will help with this
Leave by the top yard gate
No one can enter the school building during their visit
Details of new groupings and class teachers for next year will be in with the reports. There will also be details of arrangements for Y6 children next Thursday. Envelopes that are not collected will be sent out in the post.
Cheryl Outterside
As you know Cheryl Outterside is leaving Hotspur at the end of this term after 33 years at the school. If you want to make a contribution to a collection for her you will be able to do this on Thursday.