Year 6 Closure Resources
During the time that the school is closed we will be using this page to offer ideas for home learning and other ways of keeping in touch with school staff.
English
Writing - access Pobble 365 and complete a writing task using their story starter.
Reading - please make sure you read each day and complete one Reading Journal task each week.
Audible Stories has free children's audiobooks available online - https://stories.audible.com/start-listen
Spelling - log in to Spell Well and complete two lessons each day.
Maths
Maths Factor by Carol Vorderman (Free to join) https://www.themathsfactor.com/
Log in to Times Table Rockstars and complete at least 10 Garage sessions each week.
Online lessons
Showbie - http://www.showbie.com
English
Pobble 365 - http://www.pobble365.com/
Spell Well - https://www.idlsgroup.com/
Maths
Times Table Rockstars - https://ttrockstars.com/
White Rose Maths - https://whiterosemaths.com/homelearning/year-6/
STEAM (Science, Technology, Engineering, Art and Maths)
Cornflour Slime (Make sure you enter the competition to win some amazing prizes). - https://stem.rtcnorth.co.uk/_cmslibrary/files/Cornflour%20Slime.pdf
Enjoy free live lessons. Parents can register for a free account. https://encounteredu.com/
Become an aerospace engineer in the comfort of your own home. The paper plane designs range from "easy" (though I'm not sure I even did "The Stable" correctly - Mrs Cowen) to "expert" and you can design for distance flown, time aloft, decorative appearance and acrobatics. See which design works best for you. https://www.foldnfly.com/
PE
Weekly Wake Up with Mr Luke - https://www.hotspurprimary.co.uk/closure-time/weekly-wake-up-with-mr-luke?fbclid=IwAR1xsuAd11jGuEmkqtlW4qLTD-hWCK7OwOM_SU2Bvdn9FofnFKZ_5mxS3rk
Art & Design
Learn the mindfulness art technique of Zentangle. All you need is a square of paper and a pen or pencil.
Put a small dot in the each of the corners of your paper.
Connect the dots with a line, not necessarily a straight one though.
Using the pencil, sort of "scribble" in some lines, going this way and that, until you have created several spaces on the paper.
Create a different pattern in each one of the spaces that you have drawn with your pencil.
There are lots more examples online.
Music
Join in with our weekly Singing Assembly.
Watch some clips from the BBC - https://www.bbc.co.uk/teach/ks2-music/zfv96v4
Classics For Kids has some fun activities, including online games - https://www.classicsforkids.com/
Listen to nature's music - https://www.birdsong.fm/
Learn a new skill
Join Natasha Lamb and Kelly-Ann for a brand new series teaching beginners British Sign Language (BSL). Every day from 1pm
https://www.youtube.com/channel/UC9w889Lid1JHB-AX4dCoQoQ/featured?disable_polymer=1
We have been enjoying some daily free resources. Try some examples below.
Not sure how to fill up your day? Here's a timetable of online and virtual activities to make sure you never have a dull moment.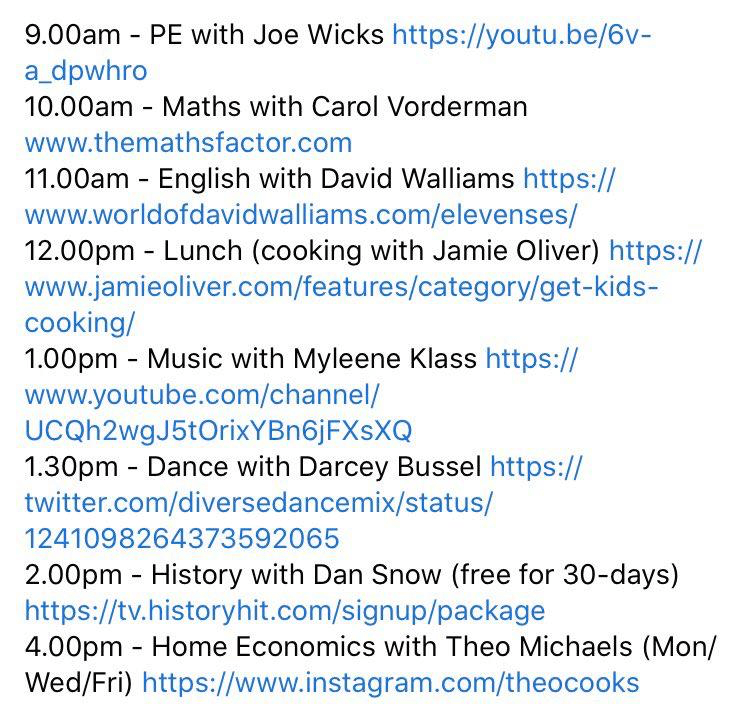 Monday 30th March 2020
Hello Year 6 and families.
Firstly, we hope you are all staying safe and settling into your new routines. We're finding things a little odd, but are doing our best to keep busy. Even though we're not in our classrooms, we still have lots to do and are trying many new things. Speaking of which...
A huge well done and thank you to everyone who has managed to find us on Showbie - it has been lovely to hear from so many of you. It's not too late to join, simply go to http://www.showbie.com and enter your class code.
6B: Q9LM9 6Y: MR6W8
Our plan is to upload tasks each Monday, Wednesday and Friday. We are also hoping to be able to share some of your completed activities on this page each week, so keep checking back.
Although our Viking project was cut a little short, the fabulous folk at Jorvik Viking Museum in York have come to the rescue. Visit https://www.jorvikvikingcentre.co.uk/discover-from-home/ to learn from the experts, watch fascinating videos and try out some of their tasks.
Did you watch our cooking video? Here's the link to the Simple Stir Fry recipe we used: https://www.bbcgoodfood.com/recipes/simple-stir-fry. Don't forget to send your pictures or recipe ideas to admin@hotspur.newcastle.sch.uk once you've made your own! We challenge you to make our mouths water.
Take care.
Mrs Cowen and Mr Luke
While online I found this lovely idea. It might be something that would like to try at home with your family.
Some examples of work from Showbie